Financial wellness in 2020 - how did yours compare?
  The latest AMP Financial Wellness surveyi shows that while COVID-19 has undoubtedly caused many Aussies to feel financial pain (and we're not through it yet!), we've also seen a shift in mindset, with those not impacted counting their blessings and feeling happier.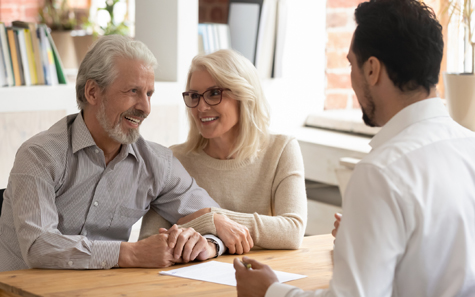 In fact, despite the recent global turmoil, the number of people feeling financially stressed has continued its downwards trend, and a massive 50% feel financially secure.  That said, financial stress is still costing the economy $30.9bn a year through lower productivity and stress-related sick days. 
Who's most financially stressed right now?
14% of Australian employees are financially stressed – that's 1.78 million Australians in 2020. While that's a lot of Australians feeling financial pain, it's still down 5% from 2018.
Single parents
Those of us who are single parents with dependent children are much more likely to be financially stressed. Interestingly, this figure has dropped significantly from 35% in 2018 to 24% in 2020. It may be linked to the free childcare implemented across many states during the start of COVID, easing some financial pressure for working parents.
Women aged 18-34 years
Almost 1 in 4 women surveyed in this age group was financially stressed compared to just 1 in 12 men of the same age range. And women face yet more setbacks as COVID impacts their livelihoods and ability to take advantage of typical wage growth that occurs during the first 10 years in the workforceii. What's more, the research shows that while women are generally better savers than men, men are more likely to direct savings to things that will better secure their financial future, like super and investments.
Aboriginal and/or Torres Strait Islanders
Around two-thirds feel mildly financially stressed, which is almost double compared to the rest of the Australian population. While also less likely to feel financially secure, the cultural attitude to wealth is more balanced. Research shows people of Aboriginal and/or Torres Strait Islander origin are three times less likely to feel it's important for them to compare their standard of living with others.
Food service and retail: most affected industries
With no tourists and city-working drastically reduced, many hotels, cafes, restaurants and bars have suffered. As a result, the industries where financial stress is being felt the most is predictably accommodation and food services, where we've seen a rise in financial stress levels compared to 2018. Perhaps this would have been greater had it not been for the stimulus provided by JobKeeper.
Retail trade was strong leading into the 2020 Christmas period, but most shopping was done onlineiii, iv. Retail trade has moved from 3rd most financially stressed industry in 2018, to 2nd place in the 2020 survey. 23% of retail employees now claim to feel financially stressed.
Better prepared in the short-term
COVID delivered a wakeup call for 24% of Australians who were not financially prepared. Having lived through years of economic growth, rainy day funds weren't a priority. Out of everyone surveyed, 42% are now putting more money aside for unforeseen events in the future; in other words, we don't want to get caught short again.

It's made us look more closely at our spending, with 29% of people impacted by COVID cancelling non-essential services. We've also decided to get better at setting goals, with 6% more people now actively working towards a financial goal than pre-COVID.
Our long-term financial future
With the Federal Government granting conditional early access to superannuation, our results have established a trend of Australians underestimating the long-term effects of withdrawing their super early. Young people and women are most likely to have accessed some of their superannuation, and 52% don't plan on replacing the money they've withdrawn. Encouragingly, 43% say they spent some of the money on keeping a roof over their head and food on the table, and 2 out of 5 used the money to pay off credit cards or personal loans. Unfortunately, 1 in 3 used it to fund their lifestyle, which could hurt their retirement lifestyle down the road, or mean they'll have to work for longer.

While 72% say it's more important than ever to plan for a secure financial future, it seems we don't consider that to include retirement. A worrying number of Aussies have no plans in place to reach their retirement goals, with half the respondents saying they don't know how much they'll have, or need, in retirement. This was also the case for 43% of people who are only 10-15 years away from finishing work.

Contact us if you are feeling concerned about any aspect of your financial situation or just if you want to get back on track after the year that was.

 
i AMP Financial Wellness, Behavioural Architects, August 2020

ii Ernst & Young (EY) analysis of census data from the ABS.

iii Australian Bureau of Statistics Retail Trade, Australia, Preliminary, November 2020

iv Australia Post Key insights from the 2020 eCommerce update

©AWM Services Pty Ltd. First published February 2021